Exacta Bets in Horse Racing
Exacta Bets in Horse Racing
Last updated Tuesday, 10/05/2022 17:50 by Hannah Diaz
Horse racing betting, in fact, is even more attractive than the race itself because of the action they bring to players. If you are new to the game, there are many intuitive approaches to this sport's betting types, as you're only focusing on a single horse on the track. With that said, horse racing betting offers you many different betting options which can give you more attractive payouts based on their diversity, and exacta bet is one of them.
In today's article, we will introduce you to a slightly higher level of horse racing betting, called exacta bets. This format is a bit more complicated than Win, Place, and Show bets, but we guarantee that it won't be too confusing if you are patient enough to learn, and its prizes can be more significant if the matching horses participate in the outcome you predicted on the previous bet. Come on, let's get started now.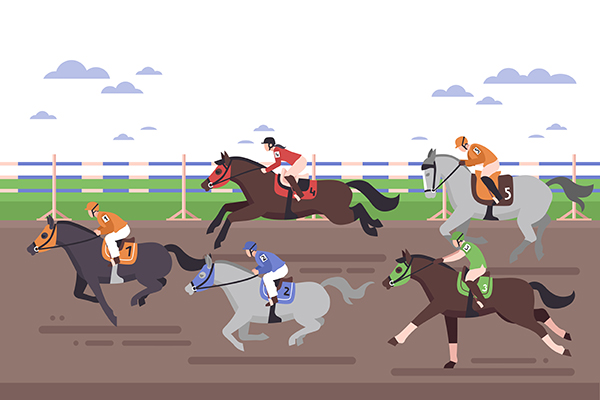 What is an Exacta Bet?
First, you need to know that exacta bets are just one part of exotic bets. This category is where you will have to choose more than one horse as part of your bet. The most popular exotic bets in the racing world include
Exacta: Two horses to finish first in a race in exact order
Trifecta: Three horses to finish first in a race in exact order
Superfecta: Four horses finish first in a race in exact order
Daily Doubles: Horse wins two races in a row
So, you have understood the definition of exacta bets. In theory, you will win this bet if you correctly predict which horse will finish first and which horse will finish second in the same race. It will be a bit different from the popular quinella bet, where you will win if your two chosen horses end up in the top 2 of the race, regardless of their finish order.
Of course, exacta bets carry a greater risk to the player than betting on a single horse to win or place. However, they come with much more impressive payouts, and that is the driving force behind more and more horse racing bettors wanting to try their luck with the genre.
What is the Difference Between an Exacta and an Exactor Bet?
This is a fairly common question among newcomers to the horse racing industry. The answer is that both are two names for the same bet. In other words, they are exactly the same. Your task for both bets is to correctly predict the two horses that will finish first and second in the correct order. So don't be confused when several players or bookmakers use both of these names simultaneously, as they represent the same type of bet.
What are the Types of Exacta Bets?
Just as you might have imagined after hearing its definition, exacta bet come with considerable risk for the player because the probability of correctly predicting the top two horses in order is extremely low. However, the flexibility of the horse racing betting industry will offer you more safe bets, also known as the different types of exacta bet. Let's learn them now with our detailed explanation.
Straight exacta
This concept is as simple as what we described above. Basically, you will choose two horses that you believe will win and place, and their correct order. Please note that you will lose your bet even if your two chosen horses finish in the top 2 of the race but not in the order you predicted.
Example: You bet on horses 1 and 5 and believe that horse 1 will finish first. If the result is 1-5, you win. If the result is 5-1 or any other possibility, you lose your bet.
Exacta box
Now it's time to study the flexibility we mentioned. To improve the probability of winning exacta bets, bookmakers invented something called the exacta box. This format allows you to box the horses that you believe will lead the race when it is over, and any outcome that comes up with the horses you have selected wins your bet. However, this will increase your bet size exponentially.
For example: Let's say you trust horses number 2 and number 4 to take the lead. Then, any outcome between 2-4 and 4-2 happens for you to win. Nevertheless, you need to remember that each result is based on a single bet, with the lowest stake being $2. So to form an exacta box, in this case, your minimum bet size should be $4.
The great thing about this solution is that you can choose as many as you want instead of being limited to just two horses. For example, you choose three horses as 1, 4, and 7. Then you will win the bet with the following possibilities of the top 3 horses in the race: 1-4-7, 1-7-4, 4-1-7, 4-7-1, 7-1-4, 7-4-1. Everything is as simple as that.
While this approach sounds pretty easy, the exponentially increasing bet size should be something you should be concerned about. Although this depends on the bookmaker you choose, overall, the bet size will increase significantly if your exacta box includes more than four horses. At that time, you will have to risk a sizable amount of money just to get a small payout. But either way, you will be able to enjoy the race with a more relaxed mind. The decision lies with you!
Exacta wheel
The exacta wheel betting is a more complicated variation, where you are allowed to choose the sets of horses that you think will finish in first and second place. This form will significantly improve your chances of winning since one or more horses can be selected to finish in each of the two race leading positions.
The horse sets you choose are named Keying. That means in an Exacta Wheel, you have two Keying to choose from.
For example, Key 1 includes horses 5 & 2. That means you can only win if 5 or 2 finish first.
For example, Key 2 includes horses 1, 3, and 8. That means you can only win if horse 1, 3, or 8 comes in second.
As such, the outcomes that you can win include 5-1, 5-8, 5-3, 2-3, 2-1, and 2-8.
For this bet, its cost is lower than that of other exacta bets, but it comes with many variables that can favor you to win. Therefore, it is not difficult to understand when it is the favorite choice of many smart horse racing bettors.
How to Play the Exacta Key
The way to play the exacta key is straightforward. Your task is to analyze all the horses participating in the race and predict the horse with the greatest chance of winning. That horse will act as your "key." Next, you can choose the horses that you think can place in the race.
For example, you think that horse number 6 is superior and rate it as a "key", at the same time, you think that horse number 3 and number 2 are formidable opponents and think that they can finish second. Then, you will win if the following possibilities happen: 6-3 and 6-2.
As you might have already guessed, the exacta key is a version with fewer variables than an exacta wheel bet. While they will reduce your chances of winning, the payouts are more impressive. Besides, it helps you to care about fewer horses in the race and can entertainingly enjoy itself.
What are the Exacta Odds and Paybacks?
In horse racing, the commonly used odds system is pari-mutuel. Unlike fixed odds bets in other sports, where you fix the odds at the time of placing your bet, and they won't change for you no matter how other players bet, this system determines The odds are based on all bets made by the player in that race. To understand this, first, you need to be familiar with the concept of a pool.
Exacta Pool
The theory states that the sportsbook will aggregate all player bets into a fund called the pool, and all single exacta bets will be aggregated and placed in a smaller pool by the sportsbook, separate from all other bets. The operator then takes out a small percentage of that as their profit. Next, they will be segregated into subgroups representing different exacta combinations.
For example: Let's say you have placed a bet on exactly 1-5 in a particular race. The pool situation says, there were a total of $15 bets on that particular one, out of a total of $1,500 in exacta's total. The odds for exacta 1-5 would then be calculated by dividing $1,500 by $15, which is 100, which translates to a $100 payout on a $1 bet. Just do a simple subtraction, and you'll know the odds for exacta 1-5 are 99 to 1.
Find your exact odds
Of course, that's just theory, and you don't need to waste your time conducting these calculations. Instead, the sportsbook will calculate it automatically and show on a big screen any time before the race the odds for the different exacta combinations at that time. For example, you can refer to the following table:
| | | | | | | | | |
| --- | --- | --- | --- | --- | --- | --- | --- | --- |
| | 1 | 2 | 3 | 4 | 5 | 6 | 7 | 8 |
| 1 and | x | 30 | 32 | 45 | 56 | 71 | 80 | 35 |
| 2 and | 12 | x | 14 | 74 | 79 | 60 | 80 | 46 |
| 3 and | 27 | 58 | x | 78 | 54 | 54 | 69 | 57 |
| 4 and | 45 | 76 | 40 | x | 56 | 37 | 18 | 68 |
| 5 and | 36 | 46 | 72 | 36 | x | 48 | 16 | 79 |
| 6 and | 80 | 35 | 59 | 59 | 37 | x | 12 | 89 |
| 7 and | 25 | 20 | 57 | 59 | 73 | 37 | x | 60 |
| 8 and | 13 | 36 | 47 | 58 | 69 | 72 | 43 | x |
This payout tells you the exact exacta odds for different win and place combinations. The leftmost column represents the horses you think will finish first, while the top row represents the contestants you think will finish second.
So you can do a quick search on the table to find the exacta combination you intend to bet on for its odds. For example, you are going to bet on a 7-2 combo. Based on the paytable, the number 20 represents 20 to 1 odds.
However, note that the pool size is constantly changing based on the pari-mutuel system in place. So the odds for exacta combinations are always fluctuating until the time the race officially starts.
The Difference Between Quinella and Exacta Box
As explained above, the quinella bet does not matter the order in which the horses are finished, while the exacta bet does the opposite. So, what about the exacta box? Just as you might think, if you ask for an exacta box of two specific horses, it won't make any difference to the quinella bet with the same two horses. However, the nature of these two bets is different.
For the quinella bet, it counts as a single bet. That is in contrast to an exacta box, where the theory says it is a combination of two bets giving the same odds. So exacta box can help you to nullify the odds of each combination; in return, you will have to increase the size of your bet. However, after we reviewed and calculated their odds at the top sportsbooks, their payouts shouldn't be much of a difference. Therefore, choosing which of them depends entirely on your preferences.
Conclusion
This article has put together the basics of exacta bets, a more complex form with greater profit potential for those interested in horse racing betting than the conventional approach. We hope that it will be useful to you and acquaint you with the diversity of this market.
Published: 10 May 2022 17:50