What is a Same Game Parlay?
What is a Same Game Parlay?
Last updated Monday, 04/07/2022 10:20 by Heidi Campbell
Parlay bets are an attractive and highly profitable form of betting in sports betting. However, same game parlay, or one game parlay, is a rarer form of betting, as most sports bettors will think of two-, three-, or 10-leg parlay hits over multiple games when hearing about parlay bets. Even so, parlay bets in the same match can bring many unexpected advantages that you would not have thought of before.
Today's article will give you detailed information on what is one game parlay, how online sportsbooks calculate its potential profit, its pros and cons, and how beginners get started with this risky but huge payout betting strategy. Get started with us now.
What is Same Game Parlay? Detail Examples
One game parlay (OGP) is a type of bet that allows you to combine multiple bets on a particular sports match into a single parlay bet. Its operating mechanism is consistent with the properties of a regular parlay bet. The difference, however, is that your parlay legs don't span many different matches, but instead, every leg in your parlay involves a single sports match.
Sportsbooks often have special rules regarding OGP, and you won't be able to combine every possible bet on a match on your OGP ticket. However, popular bets and special bets are usually allowed to combine into a single game parlay. These include Spreads, Totals, Every derivative of Spread and Totals, Player props, and Game props.
Example: In a match between Liverpool and Manchester City at the EPL, a bettor can bet the following selections in their parlay ticket:

Liverpool to cover the spread at -0.5 goal
The final total score of the game to be more than 2.5 goals
Mohamed Salah (Liverpool's player) will score
The game will have more than 9.5 corners
It is highly unlikely that all of the above will happen at the same time. However, such parlay combinations give you a huge payout at online sportsbooks. The more legs you include in your OGP, the value of the payback will increase similarly.
For example, suppose you add another condition to your bet ticket: Both Liverpool and Manchester City to score. Your OGP bet now includes 5 legs, and your winnings will increase dramatically. However, your chances of winning are reduced, as you need to meet all 5 of those conditions at once in order for the single parlay bet to cash.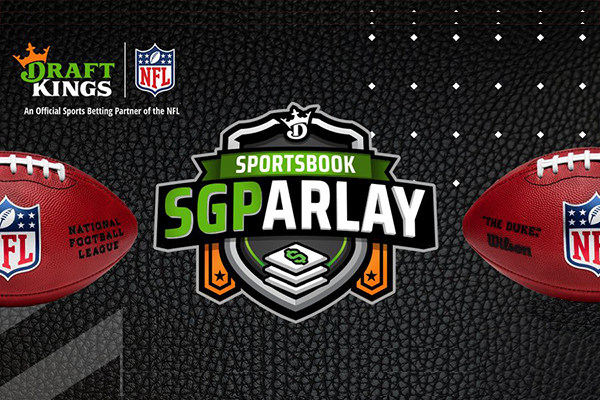 Understand the Math, Correlation, and Payout in OGP
Mathematically, sportsbooks will use specialized algorithms and formulas from data providers to calculate odds for parlays, in general, and in this case, one game parlay. However, there is one important thing that you need to know, that is, the odds in OGPs should always match the correlation of the parlay's legs.
Consider the following example to see what the correlation between the legs is and how it affects your potential payout.

During the match between Barcelona and Real Madrid in La Liga, you found two available bets in the sportsbook and decided to combine them into one OGP ticket:

Total goals from both teams after the 1st-half is more than 1.5 goals (+100)
Total goals from both teams after the 2nd-half is more than 2.5 goals (+110)

Theoretically, a combination parlay bet should pay you somewhere around (+210) or more, as it is the minimum payout you get if you split them into two separate single bets. However, most sportsbooks will decide the odds somewhere around (+190), because the two bets are correlated.
How exactly do those two bets correlate? The answer is that: the bet of "total goals from both teams after 1st-half to be more than 1.5 goals" will facilitate the bet "total goals from both teams after 2nd-half is more than 2.5 goals" to happen. If after the 1st-half, the two teams score a total of two goals, it is very likely that in the 2nd-half, more goals will be scored, and the total goals from both teams will cover the betting condition. In other words, if the condition in the first leg happens, the chance of the second leg happening is much higher.
So in this example, both legs in the OGP are correlated.
So, you'll wonder how sportsbooks apply correlation to adjust odds. Usually, the more correlated bets are, the lower the potential payouts will be. Therefore, if you include the leg in your bet ticket with each other, the odds will be significant.
Let's go back to the example at the beginning of the article to better understand what a high correlation is and what a low correlation is between bets.
The bet of "Mohamed Salah (Liverpool's player) will score" and the bet of "The game will have more than 9.5 corners" are considered uncorrelated. Regardless of whether Mohamed Salah scores or not, it has no direct effect on how many corners the game has. Therefore, if your OGP bet ticket includes only these 2 legs, your odds will be guaranteed as regular parlay bets.
Even so, the bet of "Mohamed Salah (Liverpool's player) will score" and the bet of "The final total score of the game to be more than 2.5 goals" are considered to be closely related. The reason is that, if Mohamed Salah does score a goal, that will contribute 1 goal to the total score of the game. Therefore, the condition "The final total score of the game to be more than 2.5 goals" becomes more likely. As a result, if you include these 2 legs in your bet ticket, the odds will drop slightly, resulting in a small shortfall in your payout.
Where Can I Bet the One Game Parlays?
Today, most sportsbooks allow players to make one game parlay bets. The reason is simple, it's a win-win relationship, where the sportsbooks can take their advantage when it comes to calculating the correlation and lowering the player payout a bit, while the player still has a great chance to win a substantial amount from a small wager.
If you are having a hard time finding an online betting platform that allows you to make single game parlay bets, our smart filters can help. You just need to visit the search bar on the homepage. our website and added the keyword "same game parlays." You will then get a list of the top sportsbooks that offer this betting service. The results you find are all honest, reputable, and safe operators so you can place your OGP bets with real money in the most convenient way.
How to Bet Same Game Parlay
Betting OGP is very easy. Once you've found the right sportsbook, navigate to the sports match that interests you. There you will find a parlay option or something like that. After that, the events that are eligible to be included in the OGP bet ticket will appear, and you just have to select the legs that you believe are likely to happen and add them and your OGP bet ticket.
If you find the potential payout is not impressive enough, you can add other events or bets in the match to increase your odds. Besides, another way for you to increase your potential payout is to choose legs that have little correlation with each other. However, consider that carefully because less correlation will sometimes decrease your odds of winning.
What is the Advantage of One Game Parlay?
The biggest advantage of a parlay same game over traditional parlays is that you have the opportunity to get huge payouts without having to wait long for all the events on your bet to happen. More specifically, in the case of traditional parlay bets, if you place a bet and the results of multiple matches at the same time, you will have to wait for all the matches to end to find out if you have won the bet or not. If it's the Champions League series or the NBA, you'll have to wait all night. If you bet on matches that are far apart in time, you may have to wait a few days or even a week.
That's when OGP entered the game and proved its edge. Placing multiple bets in a single match can tell you the result as soon as the match is over. As a result, you have a chance to win an impressive prize without having to wait for various matches to end like traditional parlays.
Drawbacks of Betting the Same Game Parlay
While the same-game parlays have become popular and thrilling for many bettors, there is a notable drawback to them that you should be aware of before betting on them.
The biggest problem is that players have no way of knowing the true correlation between the events they bet on, which directly affects their potential payout. For the examples in the article, we've used match highlights so you can better understand how the cases are correlated. However, in reality, many events can be fuzzy in terms of the degree of correlation.
For example, the number of yellow cards a team receives during a soccer game can correlate with the number of corners they receive. While this may sound a bit ridiculous to beginners, sports experts say that, if a team receives a lot of yellow cards, they will tend to play defensively throughout the game, leading to they may end up suffering more corners from their opponent.
As a result, the answer to how closely two particular events are correlated is a near-impossible question, and sportsbook odds correction is something you won't be able to answer. can intervene. The best thing you can do to ensure that the operator doesn't cheat your odds is to choose the most reputable, honest, and transparent sportsbooks. That will keep your mind at ease knowing that the operator has no intention of cheating on your valid winnings, and that your prize, if you win, is the best that you can receive.
Conclusion
Today's article has introduced you to the most important information you need to know about same game parlays. We hope it helps you better understand this particular betting strategy and gives you an additional option to increase your potential payout just by betting on a single match. In addition, if you have any questions about topics in the world of online sports betting, our website will have in-depth guides from experts to answer all your questions.
Published: 04 July 2022 10:20