What is a Betting Exchange? How does it work?
What is a Betting Exchange? How does it work?
Last updated Friday, 16/09/2022 16:57 by Andrew Cross
Betting exchange is a relatively new concept in the world of sports betting, but it has quickly gained popularity because of the enormous benefits it brings to bettors. Simply said, this unique form of trading is an online tool that allows gamblers to place bets directly against each other rather than being controlled by traditional sportsbooks. As a result, players will enjoy better returns on winning bets.
You may be wondering about the definition, how it works, and the pros and cons of this type of betting. Today's article will cover everything you need to know about exchange betting, how it is different from betting at sportsbooks that most players still do, and some reputable sports betting sites that grant this bet option. Read on to find out.
What is a Betting Exchange?
Betting exchange is a special form of betting that removes the influence of traditional sportsbooks on the odds. It is a betting platform that allows members to bet against each other, where bettors can provide odds or request odds from other bettors.
Players can connect with each other through the online betting exchange platform to find partners to complete their bets. As a result, you can discuss with your staking partner to choose the desired odds and pay the broker a nominal commission per transaction for the service provided. This commission is usually lower than the house edge when you bet the usual way at online sportsbooks, creating a gap that you can take advantage of and make more profit on winning.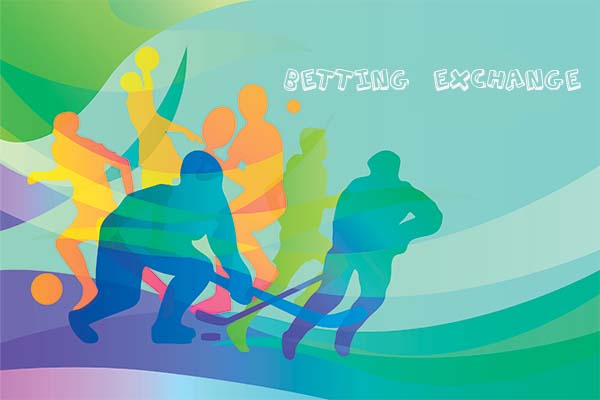 You can imagine the betting exchange like you buy vegetables directly from the farmer and place traditional bets the same way you buy vegetables at the supermarket. Of course, when you buy directly from the farmer, you will pay a much lower cost, and you can bargain with the seller for the price you want. That is a great example of how the betting exchange works.
A betting exchange requires two players to agree on odds and stakes for a particular game and place bets against each other. If you are the odds maker, you can take a stroll around the betting platform looking for players willing to accept your odds and bet amount. Conversely, you can also wander around the betting site looking for people who offer odds and accept their requests. However, often the betting system will do the intermediary work for you.
For example, in the Premier League match between Liverpool and Manchester City, you could place a $20 bet on the odds of Liverpool +1 against Manchester City. The exchange betting exchange will be looking for players willing to bet on the opposite odds of Manchester City +1 against Liverpool. Once the system has found a player that meets this requirement, a betting exchange transaction will be established.
You can see that -110 odds are quite common for sports matches at online sportsbooks. This odd implies that the house edge will be around 10 percent, meaning you will donate 10 percent of your winnings to the operator. However, for exchange betting brokers, you can enjoy odds of -101 or something like that, where the commissions that the operators of these platforms take from players are much lower than traditional sportsbooks.
How Does a Betting Exchange Work?
A betting exchange requires two types of bettors: the 'back' bettor and the 'lay' bettor. The 'back' bettor will bet on something specific to happen, and the 'lay' bettor will bet on the opposite, with the same odds. In other words, a betting exchange consists of two bets, one favoring the winning selection and the second favoring the losing selection.
Let's say you want to bet 10$ on a horse to win at 5/1, meaning you will get 50$ if you win your bet, you will need a betting partner willing to risk 50 dollars on that horse to lose at odds of 1/5, with the hope of winning 10 dollars.
The 'lay' bettor will always bet against the 'back' bettor, which means they will bet in the event that the 'back' bettor's selection does not occur. Thus, in football betting, for example, if the 'lay' bettor bets on a team to win, the 'back' bettor will bet on whether that team will draw or lose.
The Pros That Betting Exchange Brings to Players
The betting exchange has many benefits for players' betting activities. One of them mentions that players will enjoy more betting options compared to traditional sportsbooks. If you place your bet in the usual way, but the operator does not provide the odds you expect for the match you are interested in, you have no choice but to choose one of the odds the platform offers. provided. However, the betting exchange appears and makes it possible for players to place bets with whatever odds are in their favor, as long as there are other bettors willing to bet against that option. Therefore, betting exchanges are always more flexible than regular sportsbooks.
Next, as mentioned, betting at betting exchanges will bring bigger profits to players. The reason is straightforward, these particular brokers will not take the risk from the player's opposite bet, as they will not directly pay you the winnings but instead will have another player does it. So the commission for connecting the 'lay' bettor and the 'back' bettor will be much lower than the commission paid by the bookmakers directly if the player wins their bet.
Finally, if you are a professional bettor appearing on the blacklist of online sportsbooks, you are free to use the betting exchange to continue your passion for betting without any restrictions. You just need to visit the platform, place your bet with the desired odds, and look for other players willing to accept it. Sometimes the process can be reversed as well, as you'll rummage around the site looking for a 'lay' bettor that offers the odds you're looking for.
Some Top Betting Sites Offer Betting Exchange
Below, we will summarize a reputable betting site that allows players to participate in betting exchanges. You can refer to the transparent websites below if you are looking for a place to start your betting exchange journey.
Betfair Exchange
Betfair is one of the world's largest sports betting operators because it provides goods and services that are unavailable on other online gaming platforms. Betfair has become one of the industry's most famous betting exchanges and a casino and conventional bookmaker.
The platform began delivering sportsbook services in 1999 and is owned by the well-known Paddy Power Betfair PLC. After a successful first year, the site entered the online gaming sector and soon established itself as one of the finest in the business. Betfair has a large fan following in the United Kingdom and passionate bettors in Spain and Italy, among other places.
While the sportsbook platform was founded in 1999, Betfair Exchange debuted in 2000. Instead of utilizing a traditional bookmaker, gamers may now place bets against other punters on the Betfair Exchange. To your knowledge, they were the first to disrupt the internet gambling sector by offering peer-to-peer betting instead of betting against the house. The platform is mobile-friendly and provides a trustworthy and secure gaming environment.
Matchbook Exchange
Matchbook Betting Exchange was founded in 2004 and is now one of the most prominent online betting exchanges. Triplebet Ltd operates it and has operational licenses in the United Kingdom and Alderney. The site mostly attracts players from the United Kingdom, Ireland, India, Finland, and Norway, but it admits bettors from over 40 countries. The sports betting platform is designed in-house and offers minimal commission rates and a variety of Asian handicap choices.
Matchbook is attempting to compete in a competitive market by offering exceptionally low commission rates. Their Accepted Odds betting rate is only 1.5%, and the Posted Odds rate is 0.75% if you publish your offer.
Smarkets Exchange
Smarkets, which was formed in 2008, is a betting exchange that provides a fantastic modern and fair method to wager and trade on all the newest sports, politics, and current events. There are several significant advantages to betting with Smarkets versus more traditional bookies, especially if you enjoy using the exchange.
Smarkets is widely regarded as one of the industry's leading betting exchanges. They only charge a 2% fee on winning bets, which is cheaper than many of its competitors, including Betfair. On winning bets, Betfair charges a 5% fee. This distinguishes them from the start.
Regarding betting exchanges, the amount of commission taken from your wins is essential, and Smarkets' 2% rate is one of the lowest available. If you're wondering why you should switch from your current betting site to Smarkets, one of the key reasons is the cheap commission of only 2%, which is why players prefer Smarkets over other well-established betting sites whose commissions are often 5% or more.
Aside from the commission, there are no further fees, such as those imposed by certain betting sites on winnings. The lower commission is ideal for any player looking to maximize their gains. Smarkets occasionally have great discounts where there are no commission costs, and you may profit 100%.
Aside from football and horse racing, Smarkets offers exchange betting on baseball, golf, motorsports, tennis, cricket, politics, current events, and much more.
Ladbrokes Exchange
Ladbrokes has been in business for almost a century. In 1886, it began with commissions for trained horses at Ladbroke Hall. A few years later, Ladbrokes relocated its gaming headquarters to London, allowing us to take advantage of its internationally known gambling operations.
Due to the constant demand for new gambling techniques, Ladbrokes introduced an alternate form of sports betting in 2013, launching its betting exchange site. The site quickly became a legitimate competitor to Betfair. Ladbrokes exchange has quickly established itself in the competitive online gaming sector.
The Ladbrokes exchange is a unique feature that allows players to wager against one another. This betting market, like any other, frequently provides users with access to higher odds. As a result, experienced online bettors always check for this option while utilizing bookies.
The commission rate at Ladbrokes Exchange is set up such that the more you wager, the cheaper the commission fee increases. It should be noted that you do not pay any commission on any losing bets. The standard commission cost is 5% at the moment. However, you may reduce this figure to 2% by increasing the number of bets you place.
Conclusion
The betting exchange has become an inevitable trend in the online sports betting world, as it offers more betting options, lower commissions, and a fairer experience for the players themselves. will act as the bookmaker against his staking partner. If you are interested in this new form of trading, you can try some reputable websites that provide the service we introduced in the article.
Published: 16 September 2022 16:57